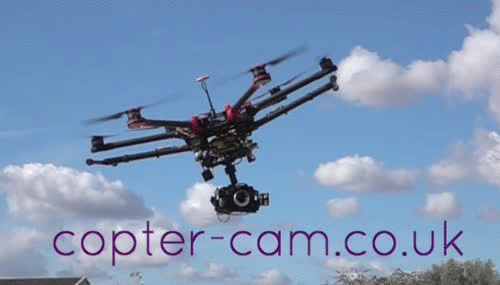 There are a ton of applications for drones and it can be a bit bewildering to know who is right for you. I've been a CAA registered drone operator since 2013 and these are my 5 tips to make sure you get the right person for the job
5. KNOW WHATS POSSIBLE 
I can launch and land a drone on a boat, I can fly through a window, I can even circle a moving obstacle whilst keeping the camera pointing at it!
BUT I CAN'T fly a drone down Oxford Street at rush hour. It's not because I don't want to, It's because I'm not allowed.
So tip number 5 is to arm yourself with the right information. A good place to start is the CAA's website 'guidance on using small drones for commercial work'  
I have turned up on location and been asked to film someone at one end of a maze and then fly across to the other side while spinning the camera and drop straight on to the other person at the other side!
We managed to do it but it nearly didn't happen
Its also worth mentioning to your drone pilot what you would like to achieve. Not only because it might not be possible but they might also be able to suggest something you hadn't even thought of
You'll also need to know if its possible to get permission from land and property owners that are within 50m of the flight
 4. MAKE SURE THEY'RE QUALIFIED
Please, please, please make sure you always used qualified pilots. 
The CAA produce a list of people who have permission to fly drones commercially, check it out here  (We're #255) it will tell you what permissions they have and when they expire.
If you employ someone who isn't registered then they are not insured. The CAA says that if you are using a drone for any kind of commercial gain (even a bottle of whisky) then its considered a commercial operation.
3.UNDERSTAND WHAT YOU'RE PAYING FOR
Heres a list of things you need to know about the service you're paying for
How many hours are included in the day rate and what will it cost if you go over that

What happens about transferring rushes and who has copyright

Does the pilot have enough batteries for the amount of air time you require

What drone / drones will the pilot be using and do they have a spare in case of problems

Does the fee include travel, accommodation and VAT

Is the pilot flexible enough to accommodate bad weather
In my experience ambiguity can cause big problems down the line so for the sake of clarity I publish my rates and exactly whats included, you can view them here
2. HIGHER FEES DON'T ALWAYS MEAN BETTER QUALITY
We've all heard the phrase 'you get what you pay for' and generally I would agree, however there are a lot of people in the drone industry who seem to be over estimating their value.
This is an inevitable part of any new industry, market forces will eventually decide what the true value of drone aerial filming is, but for now it seems people are plucking prices out of thin air. 
The important thing is to focus on ability not cost. Don't just look at show reels, ask about previous experience, even customer references can help you get the right person for the job.
After all, you don't want your carefully planned shoot getting messed up because of an inexperienced drone operator
1. ARE THEY SUITABLE FOR THE JOB
Consider the services that your drone operator offers. There is much more to drone services than simply shooting video 
For example copter-cam.co.uk offers other equipment like Ronin stabilisers with GH4 camera, slow motion cameras, sound equipment, 360 software, video editing, photo editing, we also offer other services like drone inspections, mapping and more
This can save you a lot of money and hassle sourcing other service providers. 
So in summary the number 1 tip for hiring a drone operator has to be,
HIRE US !
Please reload